It Takes a Village
We would like to give sincere thanks to our pivotal and influential partners for taking their commitment and collaboration to a higher level. Their substantial and continuing support of our partners makes all the difference in the world.
The Salvation Army
The Salvation Army was founded as an evangelical organization dedicated to bringing people into a meaningful relationship with God through Christ. Its doctrinal basis is that of the Wesleyan-Arminian tradition. It is composed of persons who are united by the love of God and man, and who share the common purpose of bringing others to Jesus Christ. The word salvation indicates the overall purpose of the organization—to motivate all people to embrace the salvation provided to them in Christ.
The word army indicates that the organization is a fighting force, constantly at war with the powers of evil. Battles are effectively waged through an integrated ministry that gives attention to both body and spirit. It is a total ministry for the total person. The Army cooperates with churches of all denominations to meet the needs of the community. Those who have drifted away from God and those estranged from their own religious affiliations are often attracted to The Salvation Army.They are first urged to seek Christ for pardon and deliverance from sin. Then they are encouraged to return to active membership in their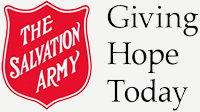 American Red Cross
Since its founding in 1881 by visionary leader Clara Barton, the American Red Cross has been the nation's premier emergency response organization. As part of a worldwide movement that offers neutral humanitarian care to the victims of war, the American Red Cross distinguishes itself by also aiding victims of devastating natural disasters. Over the years, the organization has expanded its services, always with the aim of preventing and relieving suffering.
Today, in addition to domestic disaster relief, the American Red Cross offers compassionate services in five other areas: community services that help the needy; support and comfort for military members and their families; the collection, processing and distribution of lifesaving blood and blood products; educational programs that promote health and safety; and international relief and development programs.
The American Red Cross is where people mobilize to help their neighbors—across the street, across the country, and across the world—in emergencies. Each year, in communities large and small, victims of some 70,000 disasters turn to neighbors familiar and new—the more than half a million volunteers and 35,000 employees of the Red Cross. An average of more than 9 million people a year receive Red Cross training in first aid, water safety and other skills that help save lives.

Boys & Girls Clubs of America
Boys & Girls Clubs are a safe place to learn and grow – all while having fun. It is the place where great futures are started each and every day.
In every community, boys and girls are left to find their own recreation and companionship in the streets. An increasing number of children are at home with no adult care or supervision. Young people need to know that someone cares about them.
Boys & Girls Clubs offer that and more. Club programs and services promote and enhance the development of boys and girls by instilling a sense of competence, usefulness, belonging and influence.
Boys & Girls Clubs are a safe place to learn and grow – all while having fun. It is the place where great futures are started each and every day.